Trending Articles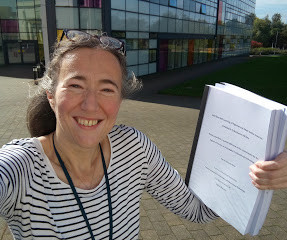 Yes! #PhD written. looking for joyful bliss once more
Ignatia Webs
SEPTEMBER 28, 2016
So, this is it. My thesis is submitted and it will now be wrapped and sent out to my examiners. For anyone interested, you can read the thesis here. have grown wiser, and become more aware of the fact that the more I learn, the less I know. Unfortunately, it also seems I lost some of my playful self… I am hoping it will come back as my mind rejuvenates after having typed for weeks on end.
How Augmented Reality Help People With a Visual Impairment
Float Mobile Learning
SEPTEMBER 28, 2016
To be effective, visually impairment aids should enhance existing vision, augment information through context, and stimulate alternative sensory channels. The post How Augmented Reality Help People With a Visual Impairment appeared first on Float. Research User Experience augmented reality blindness innovations low vision sensory input visual impairment
2 day online seminar (fee): explore opportunities for data & analytics #data
Ignatia Webs
SEPTEMBER 16, 2016
The eLearning Guild is organizing a two day online seminar on 21 - 22 September 2016 on the opportunities for data and analytics within the eLearning industry. The standard rate is 395 $, but there are discounts available (e.g. academics, non-profits, government: 35% discount). When looking at the full summit program you will see that the organizers provide a nice balance between technology, usability and theoretical frameworks on the subject. There is a considerable amount of buzz in our industry surrounding data. People are grappling with making sense of it all.
How To Enhance Retail Customer Experiences With New Technologies, Part 2
Float Mobile Learning
JULY 13, 2016
Gary and Colette have more to say about shopping online and in a store. But is one better than the other? Find out in Part 2 of our mobile retail blog post. The post How To Enhance Retail Customer Experiences With New Technologies, Part 2 appeared first on Float. Industry News Mobile Apps eCommerce mobile retail retail
More Trending